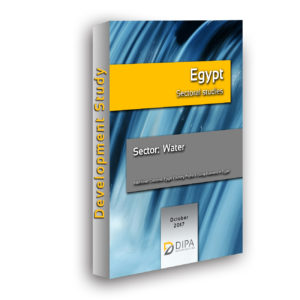 In the wake of the upheaval of recent years, Egypt's political transition would appear to be complete, with the current parliament largely supportive of the president's policies. However, security challenges are undermining economic recovery, and the country is underperforming in several key economic sectors, despite overall bright prospects.
Egypt is the 29th largest country in the world and the 4th largest country in the Middle East and North Africa. It is the most populous country in the region, with a young population of 88 million, and a relatively high birth rate. The Egyptian system of government reflects a combination of the prime ministerial and presidential systems. The former commander of the armed forces, El-Sisi, currently serves as chief of state.
Egypt is a water stressed country that is losing water at a high rate, as resources are overused and demand continues to increase. Being almost entirely dependent on the River Nile for servicing its industrial and agricultural demand, as well as providing drinking water for the population, Egypt's vulnerability has been exposed with neighbouring Ethiopia's construction of a giant hydropower plant, as well as the regional establishment of the Nile Basin Initiative that threatens Cairo's historic rights to the Nile waters. The government of Egypt has recently pushed for better wastewater network and tariff increases to build awareness of water consumption, coupled with de-salination projects to supply drinking water in coastal areas.
The business environment in Egypt is restrictive, with the World Bank ranking it 131 out of the 189 countries surveyed in its 2016 Doing Business. While its political and security environment remains uncertain, the relative stability under President El-Sisi is encouraging FDI across key sectors, as economic momentum gradually gathers pace.
The full Development Study deeply analyses the aforementioned as well as several other relevant developments both from a local and a global perspective with the purpose to present the prospects of the Egyptian economy and deliver a set of forward-looking views for businesses and investors.
 1. Country Profile
1.1 History of Egypt
1.1.1 Modern Egypt
1.1.2 Post-independence period
1.1.3 Egypt's Arab Spring
1.2 Geography
1.2.1 Area and Boundaries
1.2.2 Topography
1.2.3 Land Use and Water Resources
1.2.4 Environmental Concerns
1.3 People and Society
1.3.1 Population and National Identity
1.3.2 Demographics
1.3.3 Societal Characteristics
1.4 Government
1.4.1 Framework of Government
1.4.2 Executive Branch
1.4.3 Legislative Branch
1.4.4 Judicial Branch
1.4.5 Political Parties and Leaders
1.5 Main Infrastructure
1.5.1 Transportation
1.5.2 Tele Communications
1.5.3 Energy
1.6 Key Industries and national resources of commercial interest
2. Water
2.1 Water Resources
2.2 International water issues
2.3 Water use
2.4 Agriculture and Irrigation
2.5 Policies and Water Management
2.6 Prospects for agricultural water management
2.7 Players in the Water Sector
3. Doing Business
3.1 Starting a Business
3.2 Dealing with Construction Permits
3.3 Getting Electricity
3.4 Registering Property
3.5 Getting Credit
3.6 Protecting Minority Investors
3.7 Paying Taxes
3.8 Trading across Borders
3.9 Enforcing Contracts
3.10 Resolving Insolvency
3.11 Business Environment Indexes
If you are interested in our study please contact us