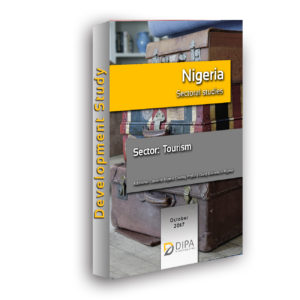 is located at the extreme inner corner of the Gulf of Guinea on the west coast of Africa and has a tropical climate with variable rainy and dry seasons, depending on location.
Nigeria, commonly known as the giant of Africa with more than 180 million people is the most populous country in Africa. With a democratic presidential system of government, it has an economy which is based on its rich natural resources, traditional agriculture and the trade sector. The country has a rich land of diverse cultural heritage, with more than 250 ethnic groups, including a wide array of religions and sophisticated visual arts.
It not only shows high potential in human resources but also is endowed with rich natural resources such as oil, gas and minerals. The country aims to develop other productive sectors, boosted by the size of its population and economy, it is a regional powerhouse.
As Nigeria receives little in the way of mainstream leisure travelers, the tourism sector is represented mainly by the domestic, visiting friends and family (VFF), and corporate travel segments. The country is ranked 178th globally in terms of the sector's size relative to its GDP, with the direct and indirect contributions measured at 1,5% and 3%, respectively, according to the World Travel & Tourism Council (WTTC). The sector is anchored by a steady corporate base with deep pockets, and as the economy continues to grow and industrialize, the supply of hotel rooms is expected to lag demand for some time to come.
Last but not least, the Business Environment in Nigeria can be characterized as unsupportive, with the World Bank ranking it (ease of doing business) 170 out of the 189 countries surveyed in its 2016 "Doing Business" report.
 1. Country Profile
1.1 History of Nigeria
1.1.1. Early History
1.1.2. The Colonial period
1.1.3. Independence and Internal Conflict
1.1.4. Modern Nigeria
1.2. Geography
1.2.1. Area and Boundaries
1.2.2. Topography
1.2.3. Resources and Land Use
1.2.4. Environmental Concerns
1.3. People and Society
1.3.1. Population and National Identity
1.3.2. Demographics
1.3.3. Societal Characteristics
1.4. Government
1.4.1. Framework of Government
1.4.2. Legislative and Judicial Branch
1.4.3. Political Parties and Leaders
1.4.4. Foreign Relations
1.4.5. Political Pressure Groups
1.5. Main Infrastructure
1.5.1. Tele Communications
1.5.2. Transportation
1.5.3. Energy
2. Tourism
2.1. Rankings, Regulation & Promotion
2.2. Domestic and international tourism
2.3. Hospitality
2.4. Locations
2.5. Entry & Accessibility / Safety & Security
3. Doing Business
3.1. Starting a Business
3.2. Dealing with Construction Permits
3.3. Getting Electricity
3.4. Registering Property
3.5. Getting Credit
3.6. Protecting Minority Investors
3.7. Paying Taxes
3.8. Trading across Borders
3.9. Enforcing Contracts
3.10. Resolving Insolvency
If you are interested in our study please contact us