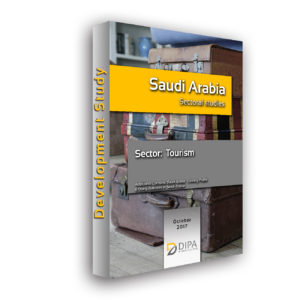 One of the largest countries in the Middle East, Saudi Arabia is a significant regional power that exerts considerable influence on a global scale. It has emerged relatively unscathed from the Arab Spring that has thrown neighbouring countries into various degrees of turmoil. While Saudi Arabia is homogeneous in religion and language, immigrants notably make up more than one third of the total population. Saudi Arabia is an absolute monarchy, ruled by King Salman bin Abd al-Aziz Al Saud since 23 January 2015.
The Kingdom's vast oil reserves have not only provided an enormous income that has fueled advances in domestic infrastructure and social services, but also boosting the country's influence in world economic and political forums. After 2009, however, world energy demand has declined due to the global financial and economic crisis, resulting in a sharp decline in oil prices, leading to a slowdown of the economic development in the Kingdom.
GDP in Saudi Arabia was worth USD 646 billion in 2015, representing 0.88% of global wealth. In spite of high unemployment among educated women and the highly skilled and a general slowdown of the economy, Saudi Arabia has managed to maintain a small but steady growth in recent years. Mainly the result of the 2014-2015 collapse in oil prices, Saudi Arabia has faced increasing fiscal deficits, representing 15,3% of the GDP in 2015 (USD 103 bn). Inflation has remained moderate and stable in the past four years, fluctuating between 2% and 3.5%.
Saudi Arabia is among the top 20 export and import markets in the world, and features as the top exporter of crude petroleum and related products. The collapse of the oil prices, however, caused a decrease in the net trade in goods, and in 2015 the Kingdom had a negative overall trade deficit of USD -28.45 bn.
Tourism is a key sector in the non-oil economy of Saudi Arabia. While the industry currently relies almost solely on Muslim pilgrims for the annual Hajj, the country's development plans have a strong focus on tourism, particularly targeting rural and remote areas that need comprehensive economic development to create jobs and investment opportunities.
Considered a politically safe and stable country with untapped potential across many sectors, Saudi Arabia has a relatively progressive business environment. The World Bank ranked it 94 out of the 189 countries surveyed in its Doing Business 2017.
 1 Country Profile
1.1 History of Saudi Arabia
1.1.1 Contemporary period
1.1.2 Recent Developments
1.1.3 International Relations
1.2 Geography
1.2.1 Area and Boundaries
1.2.2 Topography and Climate
1.2.3 Land Use and Water Resources
1.2.4 Environmental Concerns
1.3 People and Society
1.3.1 Population and National Identity
1.3.2 Demographics
1.3.3 Societal Characteristics
1.4 Government
1.4.1 Framework of Government
1.4.2 Executive Branch
1.4.3 Legislative Branch
1.4.4 Judicial Branch
1.4.5 Political Parties and Pressure Groups
1.5 Main Infrastructure
1.5.1 Transportation
1.5.2 Tele Communications
1.5.3 Energy
1.6 Key Industries and National Resources
2 Tourism
2.1 Tourism in a thematic perspective
2.2 Policies and Strategies
2.3 Contribution to GDP
2.4 Contribution to Employment
2.5 Visitor Exports and Investment
2.6 Different Components of Travel and Tourism
2.7 Challenges and opportunities
3 Doing Business
3.1 Starting a Business
3.2 Dealing with Construction Permits
3.3 Getting Electricity
3.4 Registering Property
3.5 Getting Credit
3.6 Protecting Minority Investors
3.7 Paying Taxes
3.8 Trading across Borders
3.9 Enforcing Contracts
3.10 Resolving Insolvency
If you are interested in our study please contact us